Time for a third "Debian XSF News" issue!
Debian XSF News #3
It's been a year
On a personal note, it's been a year to the day since I first looked into X. After having hacked on the Debian Installer to make it use X.Org instead of DirectFB, I did some heavy bug triaging, resulting in a drop in the xorg-server bug count in March. The same happened past week as written above, resulting in a second drop. In the meanwhile, the bug count remained more or less stable, since we try to reply quickly to new bugs, and since Julien Viard de Galbert does bug triaging on a weekly basis: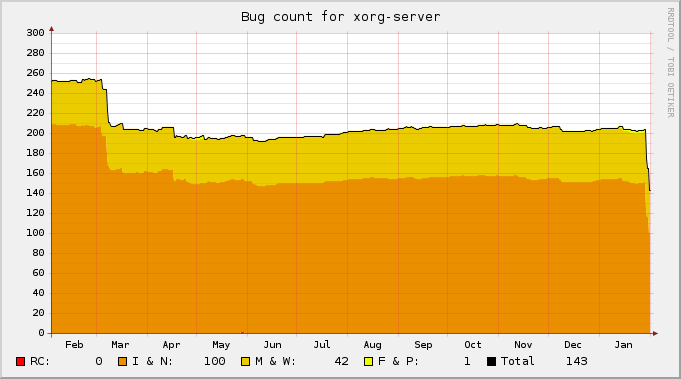 One might ask: what does "maintaining X" mean?
Packaging mostly everything X-related.
Taking care of incoming bug reports as well as older ones.
Working with upstream (which is going to be the subject of a later blog post), as well as coordinating with Ubuntu.
Keeping an eye on the Graphical Installer.
Writing documentation targeted at both users and maintainers.
Advertising XSF's work.